Ceremony Service
If you're having your ceremony at a church, you won't need a lot of this information. The church staff and clergy should assist you with sound and music as well as helping you to plan the ceremony. But, if you're planning to have the wedding at the same location as the reception, listen up.
Music at a wedding is an absolute must! Music sets the mood for the occasion and a big day is often remembered by the entertainment. Of course the music you choose reflects your personality and theme, but what will work best at your celebration?
For the wedding DJ ceremony we use x2 RCF PA System with built in amplifiers,  mixer with 6 inputs for microphones, laptop for music and live instruments like Saxophone, Violin & guitar.
We use professional grade sound and audio equipment so that the wedding officiant, the "saying of the vows", exchanging of the rings, etc can be heard throughout the ceremony area, no matter where your wedding guests are seated or standing.
Picking the music for your wedding can be fun but it's only when you get down to the nitty gritty, you realise how many songs you have to choose and how time consuming it can be! While it can be hard work, your song choices will really add some personality to your day and are a great way to make the ceremony more meaningful to you as a couple. Check out our song suggestions for the prelude, Bride walking up the aisle, signing of register & married couple walking down the ailse and signing the register below: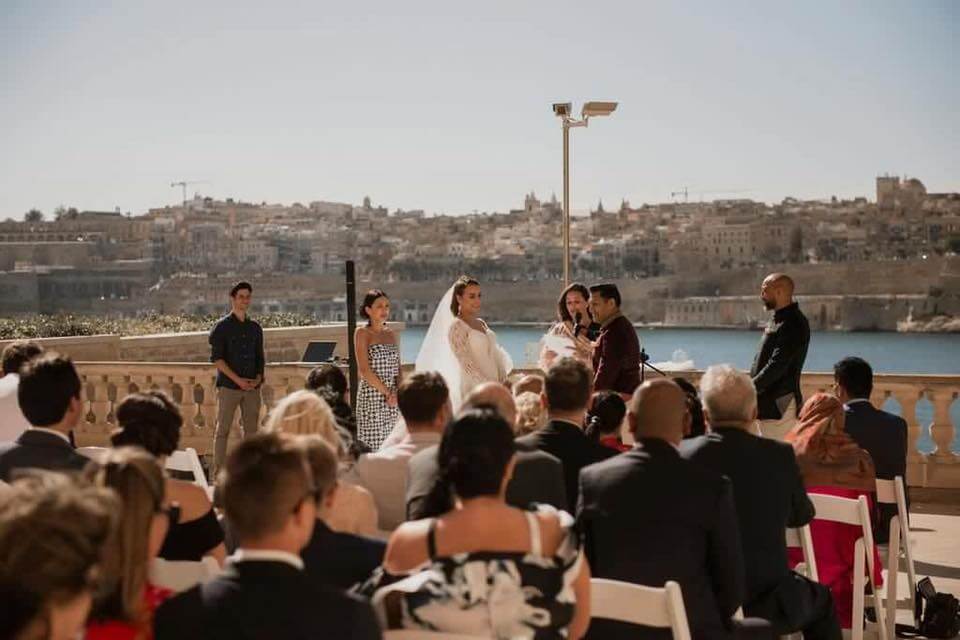 Ceremony Prelude - Richard or slow classical music
Whilst guests are finding their seats, greeting each teacher and settle in.
Bride walking up the aisle - The big entrance, this is it.
Marry bruno - Marry Me
Ed Sheeran - Photograph
Pachelbel - Canon in D
Christina Perri - A Thousand Years (Piano & Cello Version)
Mendelssohn - Wedding March
Signing of the register - The ceremony Interlude
The right song will keep the spirit of the ceremony going
Coldplay - Viva la Vida
Can See Clearly Now – Jimmy Cliff
Your Song – Elton John
I'm Yours – Jason Mraz
Beautiful Day – U2
Couple walking down the isle (Newlywed exit)
Happy – Pharrell Williams
Everything – Michale Bublé
Signed, Sealed, Delivered (I'm Yours) – Stevie Wonder
All you Need is Love – The Beatles
Ho Hey – The Lumineers
At Last – Etta James
Happy Together – Turtles
You're My Best Friend – Queen
*Remember – If you're getting married in a church, make sure to run your song choices by your priest/parish as some churches may not allow certain songs or types of music!
Meet DJ for free consultation - [email protected] or 99559805
GET A QUOTE