DJ & SAX IN MALTA
Want to add that extra special touch to your wedding day?
The DJ and Saxophone combination will tear the roof of the dance floor with energy and soul. This unique combination will deliver an exceptional experience for guests and will perform your favourite selected tracks.
The idea is simple where the DJ plays music anywhere from chill beat, Deep House, Top 40 charts, dance classics, 70's/80's /90's and our cool Saxophonist will join in harmony producing sweet sounding music vibes, . The saxophonist will be connected up to the sound system via a wireless microphone allowing him to move around the dance floor freely and even dance with the guests.
We offer a range of packages to suit your needs and budget. Our sax and DJ package is customisable, allowing you to choose the services that you need for your event. Whether you need a saxophonist and DJ for a few hours or the entire day, we can create a package that is tailored to your specific requirements.
We have an experienced team of the best, hand-picked, professional sax players that have experience delivering entertainment and musical experiences at weddings and events of all shapes and sizes.
All of our saxophone players are interactive with guests and can often be seen roaming the dance floor having fun and allowing guests to enjoy that full sax experience.
The Malta DJ & Saxophonist package can be used either for prior the first dance where more chilled music is played or after the first dance where more upbeat music is played. Although there are these 2 options, the Saxophonist works best before the first dance as the musician will have more room in the frequency spectrum of the music to improvise and create melodies on top.
Why Choose Us?
When it comes to creating memorable events, we are second to none. Here's why:
Years of Experience: Our team has years of experience in providing top-notch entertainment services for various events in Malta.
Versatility: We offer a wide range of music genres and styles to cater to the diverse tastes of our clients.
Professionalism: Our team is highly professional, punctual, and dedicated to ensuring that your event runs smoothly from start to finish.
State-of-the-Art Equipment: We use the latest sound and lighting equipment to create a visually stunning and immersive experience for your guests.
Affordability: Our saxophonist and DJ package offers exceptional value for money, giving you top-quality entertainment without breaking the bank.
Contact Us Today
Don't settle for ordinary when you can have extraordinary entertainment at your next event. Contact us today and let our talented saxophonist and DJ Malta duo create an unforgettable experience that will leave a lasting impression on you and your guests.
DJ & Saxophonist demos can be heard here.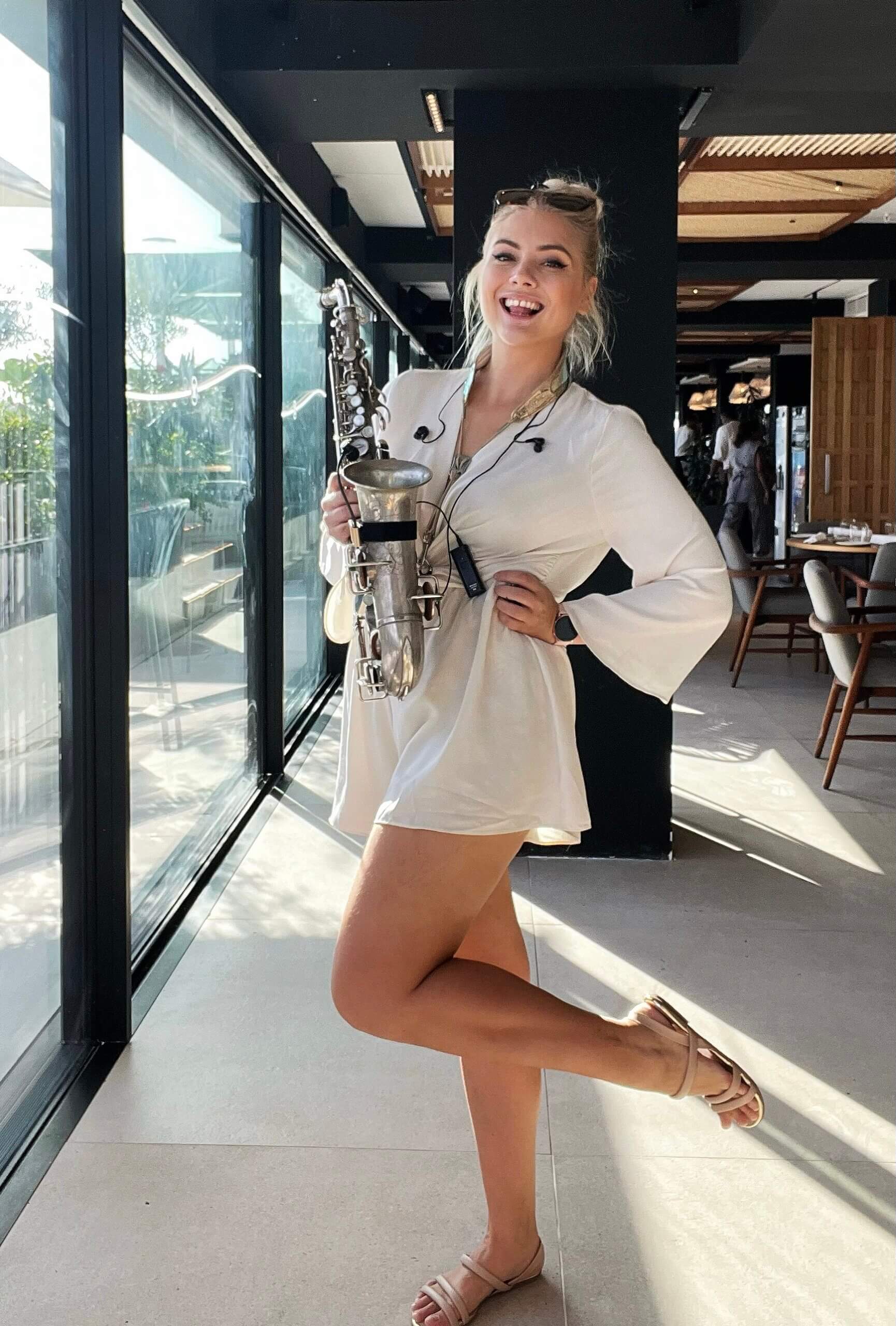 Justine Saxophonist
Are you searching for the perfect musical accompaniment to elevate your special occasion? Look no further than Justine Saxophonist, your go-to International Saxophonist based in Malta, ready to add a touch of elegance and energy to your events throughout Europe!
🎶 Why Choose Justine Sax? 🎶
Justine Saxophonist is your ticket to a truly unforgettable experience. With a passion for music that knows no bounds, Justine offers a wide array of musical genres to suit any event, ranging from the sophisticated ambiance of classical tunes to the upbeat rhythms of Ibiza house floor-fillers. Her versatility ensures that your event will be tailored to perfection, whether it's a luxurious wedding, a sophisticated corporate gathering, or a lively party night.
🎷 A Musical Journey Across Genres 🎷
From soulful pop melodies to funky grooves and soul-stirring classical pieces, Justine Saxophonist effortlessly weaves her way through various musical styles, creating an immersive and captivating atmosphere for your guests. Her wireless set-up allows her to roam freely, engaging with the crowd and bringing the music right to your guests' hearts.
✨ Memorable Moments Guaranteed ✨
Justine's goal is simple: to craft unforgettable memories for you and your guests. Her melodic tunes and seamless performances are designed to leave a lasting impression, ensuring that your event will be talked about long after it's over.
🎉 Book Justine Sax for Your Next Event! 🎉
Whether you're planning a romantic wedding, an elegant corporate event, or a high-energy party night, Justine Saxophonist is the key to elevating your event to the next level. Don't miss the chance to have the greatest saxophone music at your fingertips.