Wedding After Parties – 6 Easy Steps
The after-party is a time when everyone you love, especially those you don't get to see often, gathers together on a more intimate level,"
Some good reasonsto consider an after party:
Your reception venue has an early music curfew and ending time.
Your friends are a late-night crowd.
You can save costs on your wedding reception – cutting down on the time needed to book band & catering hours
.
For the after party, you are hosting an  additional  reception. It's best to have a change of venue which build excitement for guests but if booking a different location isn't feasible, change the atmosphere of your reception space through lighting, music, and food. Some of the best wedding memories aremade after the wedding has ended, and we want you to have the time of your life. We love the idea of wedding after-parties. They're a great way to keep the fun going. It's a growing trend in the wedding industry, because it's a chance to offer a more relaxed environment after the formality and tradition of a wedding reception. You may remember hearing that Prince Harry threw a raging after party for William and Kate, complete with a nightclub DJ and late-night snacks — most definitely allowing guests to cut loose after Prince Charles's elegant black-tie dinner at Buckingham Palace.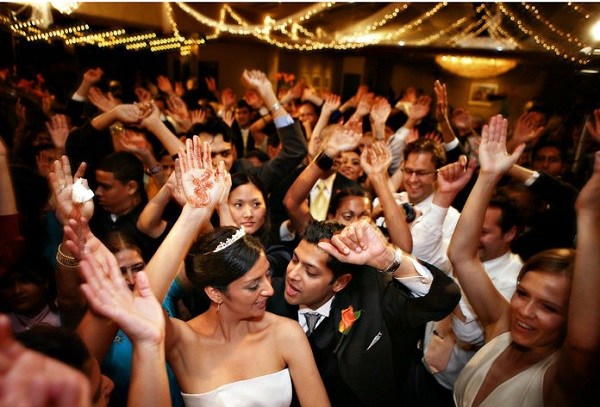 Do some planning
Get guests in after-party mode with fun wearables like glow sticks and paper crowns. Remember that traditional wedding etiquette rules don't necessarily apply, meaning that you don't have to send out official invites, and you don't have to invite everyone.
Hire your deejay to stay late
Choose DJ with clubbing background to spice up the vibe. If the after party is at the reception venue, save some money by using the same deejay, which will cost around 50 euros/additional hour. Make your after party distinct from the reception by switching to full-out dance music. We recommend mixing deep house, club music, dance classics and radio hits that guests can sing along too.
Get transportation in order (for foreign weddings) 
Arrange for all the guests to get back to the hotel safely either by mini bus or taxi.
Change clothes
You and your new spouse will probably want to change into something a bit more comfortable to keep the festivities going. Of course, you are allowed to wear your wedding dress until the party ends, but there's always the possibility that it gets spilled on or ruined. We suggest to stay on the side of caution and change into a different white dress so you can enjoy yourself without worrying about your beautiful gown.
Serve snacks
If you expect your guests to keep partying until the wee hours of the night, you should provide some sort of nourishment. It's comment for an afterparty reception to serve mini hotdogs and burgers. They go well with the alcohol.
Don't leave people out
Whether you want to invite all your guests or keep it to your inner circle, there are a few simple steps you can take to ensure everyone will have the time of their lives.