Dancing On Clouds – Weddings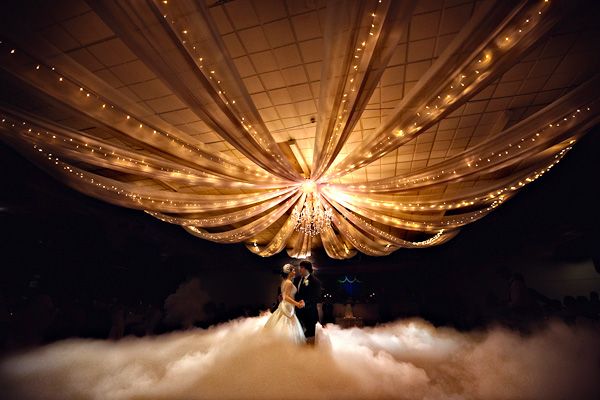 Perhaps one of the most photographed moments of any wedding is the first dance. As one of the memories that any couple wants to preserve for a lifetime, anything to add extra "WOOOW" factor to these few minutes is extremely valuable to photographers, videographers, and guests. While intimate lighting certainly creates an elegant scene, the thought of dancing on clouds is something of a fantasy-world idea. Dancing on Clouds is a 'Dramatic Effect" that adds style and romance to your first dance together as husband & wife. In almost all cases your guests are caught off guard and completely surprised when they experience this effect, especially if it is kept as a surprise.
How Does a Dry Ice Fogger Work?
A basket is filled with water, and brought to a boil. Once the water in the basin is heated, dry ice is placed in a basket and lowered into the basin. The clash of the hot and cool produces a thick ice fog. The ice fog lingers on the floor (not rising to the ceiling and fire alarms) and then dissipates. One cycle on the machine can last for up to 10 minutes, so there is more than enough capacity to run the effect for the typical four minute song.
What will you feel? You will feel a cool sensation dancing in the ice fog. The air will be cool and easy to breathe. Again, there is no liquid residue from using this effect. The ice fog dissipates into a gas.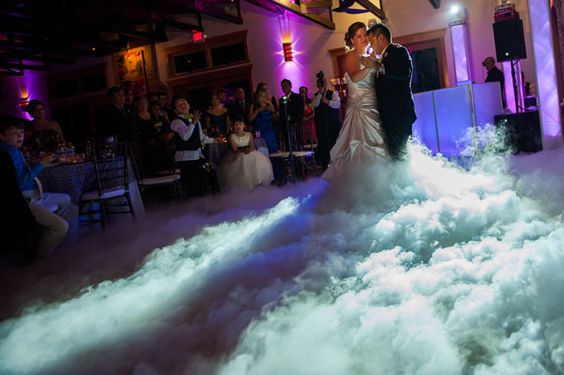 How Much Does the Effect Cost?
While not inexpensive, the effect is truly impressive. Dry ice is not widely available, exacerbating the challenges of sourcing and storing it. Please ask for a quotation on info@maltadj.events or call us on 9559805.
Dancing on a cloud adds that magical touch and makes for amazing First Dance pictures.  If you are great dancers it will take your first dance to another level.  If you aren't the best dancers in the world it will make your first dance special without adding the pressure to impress your guests with your moves.  You will be amazed on how many pictures your guests will take of your first dance.
As a DJ and Lighting company contracted to produce the entertainment portion for Weddings, Corporate events or any type of celebration, one of our biggest responsibilities is making the event memorable. If at the end of the night your guests rave to you about how much fun they had, or even years later mention how great your Wedding was, then we know we did our job! Many of our online positive re
views reflect this, how our client's guests could not stop talking about what a great time they had at the reception, or how much they loved the lighting or snow during the first dance, or even the low-lying fog effect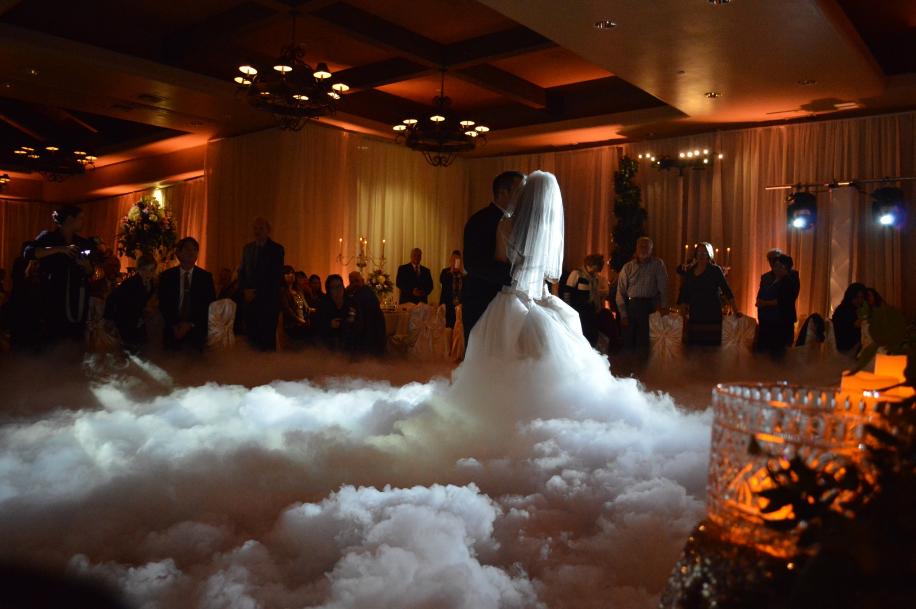 FAQs
Q. Is the smoke that comes out of this machine hot?
A. No. It is cool and created by condensation … just like the fog you see in nature.
Q. Can this set off fire alarms?
A. No, the fog stays low to the ground, and does not rise above your knees. With that said, the alarm systems at some venues are very sensitive and can possibly detect it. We have never had an incident where low-lying fog has set off any alarms. Your venue manager would be the best person to ask.
Q. Does it cause a slippery condition?
A. Marble or similar floors will become slightly damp but unless your first dance involves a tap-dancing number, most floors are totally fine
. 
Please follow and like us: