Mirror Me Photobooth Hire
Malta DJ Events teamed up with Mirror Me, the newest trend in Photo Booth world to bring an advanced digital photography mirror catered for any event and a nice discount when booking through Malta DJ Events.
The Mirror Me Photo Booth Works For All Types Of Events:
• Weddings
• Corporate Events
• Parties
• Personal Events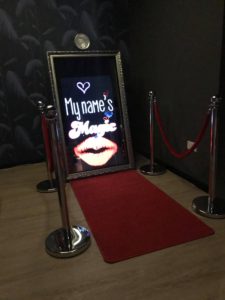 Unique Photo Experience 
The Selfie Mirror is an advanced digital photography mirror catered for any event, which interacts with your guests to give them a fun photography experience. 
Guests are invitedto walk up to the selfie mirror where colourful animations will invite them to start their photo experience. A wide range of props are also made available to enhance the fun factor. After 3 photos have been taken, guests can then sign the mirror and add emojis to personalise their photos.
Professional Printed Photos 
The photos can be printed out straight after the pictures being taken. They are professional quality 4x6 prints. You can even incorporate your own logo. A guestbook can also be provided for guests to attach a copy of their photo and leave a personal message.
All copies of the digital photos will be given to you after the event.
Package:
4 hrs unlimited use with props
Delivery and Installation
Personalised template for your photos
Person on hand to operate the mirror
Copies of all digital images
Red Carpet + Rope Barriers on each side
You Can Book Malta DJ Events Now
  Yes, you can book your Malta DJ Events by phone (00356) 9955 9805 or by email at [email protected], Click on the Contact US  page,  to access the great service that we provide each prospective clients! Find availability, package pricing, find and manage lists, music and much more.