Wedding Ideas: Classical Guitarist
You might be wondering what kind of live music your guests would enjoy, and how you can make that work with your budget and venue.
This blog post deals specifically deals with background music during wedding ceremony afternoon receptions & cocktail drinks.
If your budget is fairly modest, but you still want the magic that live music can bring, how about a soloist A wedding classical guitarist can provide gentle sophistication and a musical background to your wedding reception or wedding breakfast without being intrusive.
Mr Tony Pace; Guitarist, Tutor and Radio Presenter has been teaching different styles of guitar for a very long time, and his passion for music is unceasing.
A few words from the master.
"There are two kinds of music, good music and bad music and my favourite kind is anything which I classify as good. Good creates standards, like the Beatles had done in the 60s with melodies that even transferred onto jazz. In the 60s, free jazz confused people. Jazz did have some rules, but it was a kind of music that you couldn't learn from books. You start playing on a chord and improvise your way through."
"In 1966, I went to play in British nightclubs for about four months. Oscar Lucas and other jazz enthusiasts like me used to go to jazz clubs together to get the full experience. Tony Camilleri, a really good trumpet player, introduced me to a guitarist in the UK that used to play with the best jazz bands there and I took some lessons from him too. I even played in hotels in Ireland and in Brussels with the European institute for a great number of MPs. I played in Mexico with the Minister of Tourism at the time, so I had my fair share of opportunities to get the best kind of exposure.
"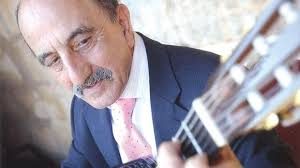 Demos
Tony (guitarist)'s sound is ideal for wedding ceremonies, drinks receptions and wedding breakfasts and his fantastic repertoire is ideal for adding a touch of romance to your wedding day! He comes self-contained with amplifier and can set-up quickly, which makes him an ideal choice when booking for the wedding ceremony and drinks reception.
Email us on [email protected] for a quote now!